Highlights:
Camp Nou
FC Barcelona Football Match
FC Barcelona Museum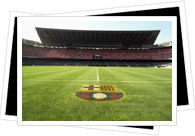 There are essentially two reasons for a Barcelona visitor to explore the Sants/ Les Corts neighborhood. One is to use the city's main rail station, Estació Sants.
The only other motivating factor to go to Sants - and it's no small matter - is Camp Nou, Barcelona's main football stadium. Home to FC Barcelona, one of the world's strongest soccer teams,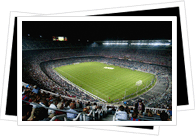 Camp Nou is an enourmous, multi-tiered arena able to hold 100,000 fans. Within Camp Nou you can visit the FC Barcelona Museum.
For more about Camp Nou and how to get tickets for an FC Barcelona match, see the FC Barcelona page.