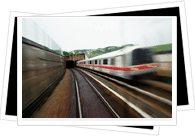 Barcelona Trains
Despite the advent of low-cost airlines, which has made flying the preferred method of travel for many, railway remains a highly convenient and affordable way to travel around Spain and Europe.
The main Barcelona train station is Estació Sants. There are rail routes from Barcelona-Sants to pretty much every regional and suburban rail station, along with a number of national and international destinations, such as French border towns and Lisbon. If you take a trip from Barcelona, this is the station you'll most likely use. The Sants metro stop (L3 & L5) is located below the station.
The other important station is Estació França; some trains may pass through both Sants and França, however França tends to handle long-distance national and international routes. For example, railway to Geneva, Milan, Zurich, Paris, and other French cities tend to pass through here. Estació França is next to the Parc de la Ciutadella, neary the metro stop Barceloneta (L4).
RENFE
Spain's national rail company, RENFE, manages a number of different types of national and international trains throughout the peninsula:
Rodalies/ Cercanías
Rodalies trains (Catalan for the Spanish "cercanías") are suburban trains used in Spain's metropolitan areas. In every city, they're recognizable by the same symbol: a red circle with an broken white ring inscribed inside.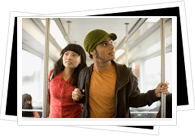 In Barcelona, Rodalies trains pass not only through Sants and França, but also through a number of other metro stops: Catalunya, Arc de Triomf, Plaça d'Espanya and Passeig de Gràcia.
Although these trains are mostly useful for commuters, they are also a great option for day trips to nearby beaches on the Costa Brava. The train that runs to the Barcelona Airport is also run by Rodalies.
Largo Recorrido
Long distance trains run throughout Spain and other destinations in Europe. There are a number of different kinds of trains and cabin options. "Turista" means 2nd class, "preferente" means 1st class. On a sleep-car - "trenhotel" - there is also a luxury class, "gran clase."