MACBA: Museu d'Art Contemporani de Barcelona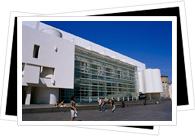 The MACBA (Barcelona Museum of Contemporary Art) is more than just a museum: it's a hub of Barcelona culture, with frequent seminars, film series, exhibitions, and concerts.
Even the "permanent" collection is constantly changing, as the museum rotates pieces from its thousands-deep depository. You may encounter works by international stars like Alexander Calder and Paul Klee, or Catalan and Spanish artists such as Antoni Tàpies, Miquel Barceló and Susana Solano.
MACBA General Information