MNAC - Museu Nacional d'Art de Catalunya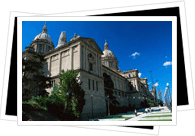 The National Art Museum of Catalonia (MNAC), housed at the foot of Montjuïc in the majestic Palau Nacional, is far and away the best place to see pre-modern art in Barcelona.
Renowned for its highly unique Romanesque collection, the MNAC holds one of the most impressive concentrations of early medieval art in all of Europe. The MNAC's rich regional collection also signals how advanced Barcelona culture was in comparison with the rest of the peninsula at that time.
MNAC General Information
Mirador del Palau Nacional, Parc de Montjuïc, , Montjuïc
Tel: (+34) 93 622 03 76 (information) & 93 622 03 75 (ticket reservation)
Metro Espanya
Open: 10am-7pm Tue-Sat; 10am-2:30pm Sun & public holidays
Closed Mondays.