Once you arrive in Barcelona, and if you have the Friday afternoon to stroll around town before catching some typical dinner, our recommendation is that you profit your day: head right to Plaza Cataluña square (nearest Metro stations: Catalunya and Urquinaona), the heart of the town. This grand square, usually bustling with crowds, is the start point of the many different ways you can take to explore the city.
We are just suggesting you some routes, divided in three days, but you can of course feel free to gather our advice and use it as you judge best, reorganizing the itineraries for each day at your pleasure. These are just some of the Friday in Barcelona options: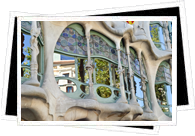 One option is to walk up Passeig de Gracia, which starts right at Plaza Cataluña square. Along the way, the XIX and early XX century Barcelona is revealed. You will find famous modernist buildings along the stroll, like Gaudi's 'Casa Mila' or 'Casa Battló'. At the end of Passeig de Gracia, a small square opens leading into Gran de Gracia street. This narrow street used to be the connection between Barcelona and Gracia, once a small village outside the main city that has since the XX century become one of its most peculiar neighbourhoods, succeeding in preserving the small town atmosphere. This is a great spot to wander around the streets and into the many shops and boutiques of the neighbourhood, or relaxing a bit at one of its many peaceful squares on a Friday in Barcelona.
A good restaurant –and not very costly- serving traditional Catalan food in Gracia is La Llavor dels Orígens (Carrer de Ramón y Cajal, 12), where you will be able to taste some dishes that are exclusive to Catalan cuisine in a very familiar environment. Another good option in the area for a cold beer and some 'tapas' would be the Café del Sol (Plaça del Sol, 16), a popular meeting point in the area, which is why you shouldn't come too late in the evening, for it will be jam-packed with people starting the night with some drinks. Its summer terrace is one of the most enjoyable in the area, which adds a plus to the place.
If you should decide to stay in the area after dinner for a drink, you shouldn't miss Heliogàbal (Carrer de Ramón y Cajal, 80), a basic reference in the artistic and musical world of Barcelona, organizing concerts, poetry readings and art exhibitions. Even though it only holds around 80 people, it has become a forum for the city's artistic vanguard, and you will surely catch an interesting band performing there any day of the weekend. Many believe that one day people will speak about it as they speak of the CBGB's in New York.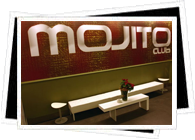 After the show, and if you still feel some lust for dancing, you can always visit Alfa (Carrer Gran de Gràcia, 36), a former sewing machine factory that has turned into a disco that closes at 3 in the morning, and offer a varied selection of hit songs from all eras, and affordable prices on the drinks. I f you're still up for more partying -it's Friday night!-, you can check out the latin-music oriented Mojito Club (Carrer del Rosselló, 217), where you will be able to put all your salsa skills into practice until 5 in the morning.