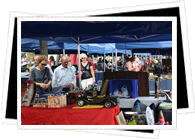 Sundays are definitely a great day to be out in the streets of Barcelona. There are many places to just sit and have a coffee while reading the day's newspaper, or sitting down in a square and read while the morning passes through. But an interesting option, too, is to visit the many flea markets happening in town on Sundays. As we say, there are many different options:
the Zona Franca market: focused on clothing and textile products, it is located on the Carrer del Ferro. A must-see place for fashion victims and trendsetters!
the Sant Antoni market: located in the Ronda de Sant Antoni, it also offer a wide clothing selection, together with antiques and collector's objects, and is a classic date in Barcelona. It is also famous for the rich and varied book market that is set around the rest of the stalls, and where collectors and literature students go every Sunday to find unique pieces for their bookshelves.
the Plaça Reial market: focused on weird collector's objects, or just any sort of vintage trashed out materials, the Plaça Reial holds this weekly flea market too, a much more popular one in style and offer.
Once the searching work is over with, and if you are already looking for another session of knowing the city on your Sunday in Barcelona, a good option is to stroll around the Born area, a less explored area further away from the Barrio Gótic to the Norteast, that has many small squares and cosy comfortable terraces to sit at and have a dish of the most diverse types of food: arab, indian, mexican... Or if you rather stay around the Ramblas area, you should stroll down to the Boquería market, the food market next to the Ramblas, and have a couple of pintxos (small bites) at El Pinotxo, a classic bar that would put a perfect end to a perfect weekend stay in Barcelona.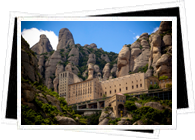 In case you would like to leave the city and explore some of the outskirts of Barcelona, we recommend you two opposite plans: either going to the interior to visit the breathtaking Montserrat mountain and monastery, or heading south for the beautiful and charming coastal city of Sitges. Both of them are great day trips that you will enjoy greatly, while discovering often unexplored parts of the Barcelona area. If you decide to go all the way up the 4,000 meter mountain, you will cross on your way many nice settings and villages of the Barcelona province, where you should stop and search for the local typical products to make a small shopping and take them back with you. If , on the other handm choose to visit Sitges (only 30 min away by car), be sure to check the Maricel Palace and the local museums, as well as the painter Santiago Rusiñol's house-studio.