Modernisme Architecture
A visit to Barcelona would be incomplete if you missed the main Catalan Art Nouveau, or "modernisme" sights.
A little background: Barcelona experienced a huge economic boom in the early 19th century, which subsequently led to population growth and heightened prosperity. This meant that Old Barcelona was bursting at the seams. To accommodate these changes, the Eixample - Catalan for "extension" or "enlargement" - was developed. The area's main axis is Passeig de Gracia, a wide boulevard named as such because it connects the old city to the neighborhood of Gràcia. Construction on Passeig de Gracia and around exploded in the 1870s and continued well into the 20th century. New buildings filled with the wealthy Catalan bourgeois and essentially became a playground for modernista architecture.
While Antoni Gaudí's style differs from Domènech i Montaner's and Puig i Cadaflach's, the movement does share a variety of characteristics: curved rather than straight lines and parabolic arches; organic forms derived from nature; ample decoration and ornamentation,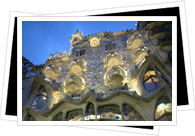 often with vegetal themes; experimentation with varied mediums such as ironwork, stained glass and stone; lots of color; use of the time's modern techonology for construction; highly functional designs; Catalan Gothic and Romanesque influences.

We recommend you spend a day in the Eixample to get to know the amazing works of Antoni Gaudí and others. The city government of Barcelona organizes a nice tour of Barcelona modernista architecture called the Ruta del modernisme.
Find out where to see the most impressive modernisme buildings here: Antoni Gaudí.