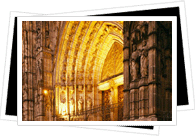 Catalan Gothic Architecture
Barcelona's Gothic works are naturally concentrated in Cituat Vella, the old part of the city, where medieval Barcelona prospered among vestiges of Roman temples and walls.
The city's Gothic Cathedral, La Seu (1289-1460) contains the recognizable characteristics of the style - gargoyles, ornate sculptures, a cloister and soaring pointed arches - but also incorporates elements from other architectural periods. The main façade dates to the 19th century and most of the chapels are Baroque.