Catalan Cuisine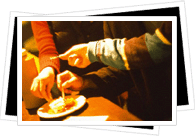 Catalan cuisine, like peninsular fare on the whole, is largely elaborated with one key ingredient: olive oil. Garlic and tomatoes are other staples, along with excellent seafood, mostly concentrated in the restaurants around the Barceloneta.
For more on Catalan cuisine, see: Barcelona Food.
Tapas
Tapas culture is not particularly strong in Barcelona. Supposedly born in southern Spain, where waiters would cover ("tapar") a class of wine with a small ration of food, the tapa has never been a Catalan tradition.
Nevertheless, you will find a high concentration of tapas bars in Ciutat Vella, the old part of town. In accordance with Barcelona's "cool" reputation, many of these give tapas a creative twist in a chill-out atmosphere. Going "de tapeo" is a great way to get to know various locales and tastes at an affordable price.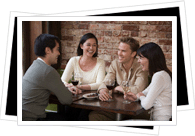 Below we've listed the most traditional and popular Barcelona restaurants serving tapas, Catalan & Spanish cuisine, plus tapas bars for those who want to try this uniquely Spanish activity. Where price range is concerned, remember that the lunchtime "menú del día" will come to €7-13 for a 3 course meal. Our estimates are based on a full dinner meal.
Barchelona Tapas Restaurants
Bodega
c/ del Regomir 11, Barri Gótic
Metro Jaume I
No phone
Daily 1pm-2am, closed Mondays & first half of August
Quimet i Quimet
c/ Poeta Cabanyes 25, Poble Sec
Metro Paral.lel
Tel (+34) 93 442 31 42
Closed Mondays, Sundays lunch only
Txapel (Euskal Taberna)
Pg. de Gràcia 8-10, the Eixample
Metro Catalunya
Tel (+34) 93 412 02 89
Open Mon-Thu 8am-1:30, Fri-Sun 10am-2am
Mosquito (Asian tapas)
c/ dels Carders 46, Barri Gótic
Metro Jaume I
Tel (+34) 93 268 75 69
Open Wed-Sun 7pm-2am
Catalan & Spanish Restaurants in Barcelona
Agut
c/ d'En Gignàs 16, Barri Gótic
Metro Jaume I
Tel (+34) 93 315 17 09
Open Tues-Sat, Sunday lunch only
€20-30 per person
Cafè de l'Acadèmia
c/ de Ledo 1, Barri Gótic
Metro Jaume I
Tel (+34) 93 319 82 53
Open Mon-Fri
€20-30 per person
Los Caracoles
c/ dels Escudellers 14, Las Ramblas
Metro Drassanes or Liceu
Tel (+34) 93 302 31 85
Open daily 1pm-midnight
€20-30 per person
Can Culleretes
c/ Quintana 5, Las Ramblas
Metro Liceu
Tel (+34) 93 317 30 22
Closed Mondays, Sundays lunch only
€20-30 per person
Set Portes
Pg. d'Isabel II 14, La Ribera
Metro Barceloneta
Tel (+34) 93 319 29 50
Daily 1pm-1am
€20-30 per person
Orígens 99.9%
c/ de la Vidriera 6-8, La Ribera
Metro Jaume I
Tel (+34) 93 310 75 31
Daily 12:30pm-1:30am
€15-20 per person
Els 4 Gats (Picasso's first exhibit opened here!)
c/ Montsió 3, Barri Gótic
Metro Catalunya
Tel (+34) 93 302 41 40
Daily 1pm-1am
€10-30 per person
Casa Leopoldo
c/ de Sant Rafael 24, El Raval
Metro Liceu
Tel (+34) 93 441 30 14
Closed Mondays, Sundays lunch only
€30-50 per person