Budget Restaurants in Barcelona
While Barcelona boasts some extremely fine and pricey restaurants, there's no reason to burn a whole in your pocket when you can head to the places listed below, and there are many more to discover. Most budget Barcelona restaurants are located in the old part of townand Gràcia, as Barcelona restaurants in the Eixample logically reflect the neighborhood's more upscale character.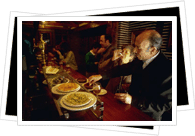 At lunch time, the biggest meal of the day, you'll find cheap "menú" deals for €7 and up - even when the restaurant's a la carte dishes are expensive. A typical menú includes 3 courses and a beverage, so filling up mid-day is the best way to eat well without spending an arm and a leg.
If you're sticking to a tight budget, you can avoid Barcelona restaurants entirely and head to the markets. The Mercat de la Boquería, right on Las Ramblas, is a backpacker favorite.
Les Quinze Nits
If you walk through the Plaça Reial at lunch or dinner time, you'll immediately recognize Les Quinze Nits by the huge line of patrons snaking through the plaza. This popular budget restaurant doesn't take reservations, but your patience will pay off. The food is stupefyingly cheap and delicious, with mostly regional dishes, but it's one of the few Barcelona restaurants concerned about turnover, so don't expect as relaxed a pace as most digs. If you're traveling on a budget and want to feel like you're going posh without spending more than €13 for an entree, then this is the place to go.
Plaça Reial 6, Barri Gòtic
Metro Liceu
Tel (+34 933 17 30 75)
Daily 1pm-3:35pm and 8:30pm-11:30pm
Xampanerias (Champagne Bars)
One thing you'll learn quickly while traveling in Spain: the best affordable spots are often claustrophobically packed. Don't fret, though - that's a sure sign that you're in for a good meal. These two Xampanerias (Champagne bars) in the hip Born area are worth elbowing your way through hordes of locals and tourists to order a bottle of cava, Spanish sparking white wine, for €2-€7, accompanied by delicious tapas like pa amb tomàquet, chorizo, cheese, pork, burgers... whatever suits your fancy.
Xampanyet
c/ de Montacada 22, La Ribera
Metro Jaume I
Tues-Sat noon-4pm and 7-11:30pm, Sun noon-4pm
Can Paixano
c/ Reina Cristina 7, La Ribera
Metro Jaume I or Barceloneta
Buenas Migas
Grab a large tosted focaccia topped with cheese, meat or veggies at this indoor/ outdoor café and you'll be hard pressed to spend more than €5. It's a great place to fill up quick and hop over to the nearby MACBA or CCCB for some contemporary Barcelona culture.
Plaça Bonsuccès 6, El Raval
Metro Catalunya
Tel (+34) 933 18 37 08
Mon-Wed & Sun 10am-11pm, Thurs-Sat til midnight
Maoz Vegetarian
Maoz offers one option - falafel - with a varied salad bar. Here's how it works: you get a couple of falafel in a pita, with or without hummus, and are free to pile on toppings at your heart's desire. It's healthy, vegetarian, and cheap. Even with all the fixings and a beverage, you won't exceed €4.50.
3 locations: c/ Ferran 13, La Rambla 95, c/ Jaume I 7, Barri Gòtic
Metro Liceu, Drassanes, Jaume I
Daily 11am-1:30am, Fri & Sat til 2:30am, closed Mondays.
The Bagel Shop
Ok, ok, so you didn't come to Barcelona for a taste of New York. Nevertheless, for a quick, filling bite right by Las Ramblas, the Bagel Shop is the way to go. They offer a wide selection of bagels from under €1; slap on a spread or build a sandwich for €3-6.
c/ Canuda 25, Barri Gòtic
Metro Catalunya
Mon-Sat 9:30am-9:30pm; Sept-June open Sundays 11am-4pm
Nou Candanchu
With summer tables set up on the plaza under Gracia's emblematic clock tower, Nous Candanchu serves Cataln dishes for €6-€11.
Plaça Rius i Taulet 9, Gràcia
Metro Fontana
Tel (+34) 932 377 362
Daily 7am-1am, Fri & Sat til 3am, closed Tuesdays.
Gavina
This legendary Gracia pizzeria is quirky and fun, but expect substantial waits for a table after 8pm.