International Restaurants in Barcelona
The international restaurant scene in Barcelona far surpasses any other city in Spain. With everything from sushi and kebabs to Cuban, Greek and Ethiopian food, you'll find plenty of options to stray from typical regional fare.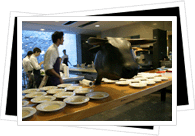 On the creative/ fusion end, Barcelona is a hub for experimental chefs. Native Ferran Adria is world famous for his crazy culinary experiments, and many of his protegès have their own restaurants in the city center at more affordable prices ... and with the possibility of actually getting a reservation in this century.
These "nueva cocina española" haunts are still quite pricey but a definite part of the Barcelona restaurant experience.
Below are some listings for some popular international Barcelona restaurants.
Fusion/ Creative Restaurants in Barcelona
Comerç 24
c/ del Comerç 24, La Ribera
Metro Barceloneta
Tel (+34) 93 319 21 02
Daily Tue-Fri, Sat dinner only
Meal for one €35-45
Àbac
c/ del Rec 79-89, La Ribera
Metro Barceloneta
Tel (+34) 93 319 66 00
Open daily, Mondays dinner only, closed August
Meal for one €90-100
Cuban Restaurants in Barcelona
HBN BCN
c/ Escar 1, La Barceloneta
Metro Barceloneta
Tel (+34) 932 25 02 63
Daily 1-4pm & 9pm-midnight
Entrees under €15
Habana Vieja
c/ dels Banys Vells 2, La Ribera
Metro Jaume I
Tel (+34) 93 268 25 04
Meal for one about €20
Japanese Restaurants in Barcelona
Hello Sushi
c/ Junta de Comerç 14, El Raval
Metro Universitat
Tel (+34) 934 12 08 30
Daily 12:30-4:40pm & 8:30pm-12:30am, Sun 12:30-4:40pm, closed Mondays
Sushi Itto
c/ Londres 103, Gràcia
Tel (+34) 932 41 21 99
Daily 1:30-4:30pm & 8:30pm-midnight
French Restaurants in Barcelona
Krampus (Crepes)
c/ de Saragossa 89, Gràcia
Metro Lesseps
Tel (+34) 93 200 85 97
Daily for dinner, closed Mondays
La Carassa (Fondue)
c/ de Brosoli 1, La Ribera
Metro Jaume I
Tel (+34) 93 310 33 06
Thai Restaurants in Barcelona
Thai Gardens
c/ de la Diputació 273, the Eixample
Metro Passeig de Gràcia
Tel (+34) 93 487 98 98
Closed Sundays
Meal for one €25-30