Tourism Highlights around El Raval:
Mercat de la Boqueria
Antic Hospital de la Santa Creu/ National Library of Catalunya
Centre de Cultura Contemporanea de Barcelona (CCCB)
Museu D'Art Contemporani de Barcelona (MACBA)
Palau Güell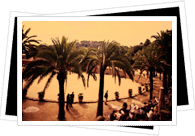 A good gateway to Raval tourism from Las Ramblas is the Mercat de la Boqueria. This vibrant modernista market holds all kinds of food stands and tapas bars, and is a great place to simply wander around or stock up.
Just behind the market you'll find the Antic Hospital de la Santa Creu, medieval Barcelona's central hospital, now home to the National Library of Catalunya.
One of the streets that meets the hospital is Carrer dels Angels. It's a straight shoot northwest up to the Plaça dels Angels, home of the neighboring CCCB and MACBA, Barcelona's two main contemporary art and culture centers.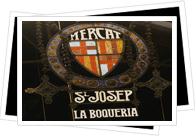 All the way at the southern end of el Raval, about a block west of Las Ramblas, is Palau Güell. Commissioned in the 1880s by Eusebi Guell (see also Parc Guell & Colonia Guell), this is one of Antoni Gaudi's more subdued works. It's also among the few examples of Catalonia's Art Nouveau style, "modernisme" in the Old City, or "Ciutat Vella."