Montserrat & the Montserrat Monestary
About 40 km northwest of Barcelona lies the mountain of Montserrat, with a beautiful Benedictine monastery perched atop its eastern peaks. Its oddly shaped rocks, rich history and religious significance make Montserrat one of Catalonia's most interesting destinations.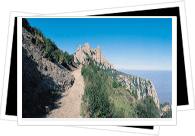 The Montserrat monastery, which houses "La Moreneta" (the Black Virgin), Catalonia's patroness, is a magnet for tourists and pilgrims the world over. The legend of the Black Virgin dates to the 9th century, when the monastery's first chapel was constructed. Jump to the 20th century and you find the monastery of Montserrat playing an important role in the Catalan nationalist movement. The first Catalan bible was published here during Franco's rule (1939-1975) and it was an important anti-Franco stronghold during the Spanish Civil War (1936-1939).
Tip: visit the Montserrat monastery at 1pm on weekdays or noon on Sundays to see its phenomenal boys choir is chanting the Ave Maria.
How to reach Montserrat from Barcelona
By Train

FGC trains towards Manresa leave hourly from Plaça d'Espanya and take aproximately 50 minutes to the "Montserrat Aeri." That's where you have to get out to take the "Aeri" cable car, which leaves about every 15 and drops you on a terrace just below the monastery. It's a breathtaking trip! Alternatively, you can stay in the FGC train until the next stop, "Monistrol de Montserrat." From there hop on the " cremallera," the mountain railway, which leaves every 20 to 60 minutes. Prices depend upon the combination of transport you choose.
By Bus
Cheaper than the train, but for sure lacking the thrill factor, is the daily morning bus service from Barcelona. Ask for "Julia Tours"at the Barcelona tourist office (Plaça de Catalunya).
By Car Take the A2 motorway as far as Martorell, and then follow the N11 and C1411.
Montserrat Tourist Information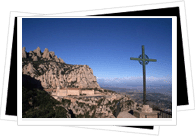 Tourist Office
Open daily from 9am-5:45pm and until 7pm from July-Sep
Tel: (+34) 938 777 701
Basilica with "La Moreneta"
Open daily from 8am-10:30am and noon-6:30pm
Free entry
Museu de Montserrat
Open 10am-6:45pm Mon-Fri, 9:30am-7:45pm Sat & Sun