Terrassa & Sant Cugat des Vallès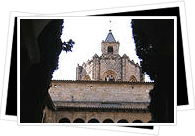 For those interested in churches and monastaries, a half or full day trip to Sant Cugat del Vallès and Terassa provides the perfect excuse to get out of Barcelona. First, just 25 minutes northwest of Barcelona, lies the Benedictine Reial Monestir in the small town of Sant Cugat des Vallès. It is especially famous for its beautiful 12th century Romanesque cloister.
The second stop on this excursion is Terrassa. This industrial city about 20km outside of Barcelona holds many treasures in its old city center. Its group of three pre-Romanesque churches, known as the Conjunt Monumental de les Esglésies de Sant Pere, form an interesting complex on the site of this former Roman town of Egara. Terrassa also hosts an awesome annual jazz festival every summer.
How to get to Terrassa from Barcelona
Both places can be reached by FGC train running on the S1 line from Plaça de Catalunya, also stopping at Passeig de Gracia. The trip to Sant Cugat takes about 25 minutes. From there to Terassa takes another 15 minutes.
Tourist Information
Reial Monestir
Open 9am-noon & 6pm-8pm Mon-Sat; 9am-8pm Sun
Free entrance
Conjunt Monumental de les Esglésies de Sant Pere
Open 10am-1.30pm & 4pm-7pm Tue-Sat, 11am-2pm Sun
Free entrance