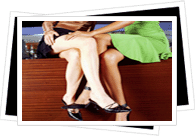 The Gay Scene in Barcelona
Barcelona has a thriving gay and lesbian scene, also called "el ambiente" (literally "the atmosphere"). What's more, the city affords its gay residents and travelers an impressive number of services. By phone, the "Ajuntament" (City Hall) runs a lesbian and gay telephone hotline (900 601 601). Another useful resource is SexTienda, whose maps of gay Barcelona list bars, clubs, hotels and restaurants (c/ Raurich 11, right off c/ Ferran in the Barri Gòtic, Metro Liceu).
Gaixample - the ubiquitous nickname for lower L'Eixample - is a testament to gay Barcelona's welcomed presence. It's concentrated around c/ de Cent and c/ d'Aribau by metro stops Universitat, Urgell and Passeig de Gràcia. In any event, the nightlife scene is mixed and friendly all over the city.
The biggest event on Barcelona's gay calendar is Carnaval in Sitges. Celebrated every year in late February/ early March, this beach town puts on flamboyant parades and drag shows while clubs stay open til the break of dawn. It's a short train ride from Barcelona. See the Sitges page for more.
Popular Gay Barcelona Establishments
Salvation
Ronda de Sant Pere 19-21, La Ribera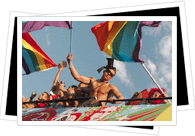 Metro Urquinaona
Tel (+34) 93 318 06 86
This huge and hugely popular club pumping European house music is a favorite among Barcelona's gay scene.
Café Dietrich
c/ Consell de Cent 245, the Eixample
Metro Urgell or Universitat
No phone
Restaurant/ music bar with food until midnight and intermittent drag shows.
Aire Sala Diana
c/ Valencia 236, the Eixample
Metro Passeig de Gràcia
Tel (+34) 93 451 58 12
As far as lesbian Barcelona goes, this is the place to see and be seen.
Arena Madre
c/Balmes 32, the Eixample
Metro Passeig de Gràcia
Tel (+34) 93 487 83 42
Another enormous discoteca, Arena is a gay Barcelona classic.
Santanassa
c/ d'Aribau 27, the Eixample
Metro Universitat
If you want to stray from the exclusively gay scene and mingle amongst an open mix of funky partiers, Santanassa is the place to go. It's open until 5am and there's no cover, a Barcelona rarity.