Barcelona Bars
It would be impossible to discover all of Barcelona's bars in a lifetime, especially since locales are in constant flux.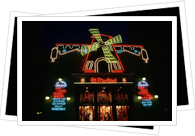 Rather than recommend a long list of Barcelona bars, we've highlighted some of the most concentrated streets and areas. The rest is up to you! Part of the fun of the Barcelona bar scene is to pick a neighborhood and hop around, discovering your own favorites and installing yourself in the local crowd.
As far as prices are concerned, a bottled beer ranges from €2-6, while mixed drinks vary anywhere from €4-9. Bars hold varying types of licenses that allow closing times between midnight and 3am, depending on the locale.
Barcelona bars in the Gothic Quarter
The lower end of the Gothic Quarter - east of Las Ramblas below the the metro Liceu - hold the neighborhood's highest concentration of bars and clubs. Look especially around Carrer dels Escudellers, the Plaça Reial and Carrer d'Avinyo. If you're feeling lost, you can even keep it simple and stick to the Plaça Reial. Longstanding favorites like the Barcelona Pipa Club, Glaciar, Jamboree, and Karma are all enclosed within. Many traditional cerveserías are located on Carrer de Ferran as well.
Barcelona bars in El Raval
If you're into a laid back, artsy scene, El Raval is the barri for you. Most of the action is concentrated in the area's upper end around the MACBA, between c/ Carme and c/ Joaquim Costa.
Barcelona bars in La Ribera/ El Born
The stylish, trendy barri of La Ribera/ El Born packs most of its Barcelona bars around the neighborhood's namesake boulevard, the Passeig del Born.
Barcelona bars in the Eixample
The Eixample also has a stylish scene, but it's more wealthy/ posh than La Ribera's artsy/ trendy vibe. Barcelona bars in this neighborhood tend to be more expensive, and teenagers pack the lively c/ de Balmes. More mature natives recommend c/ d'Aribau between Av. Diagonal and c/ de Mallorca.
For information about "Gaixample" see Gay Barcelona Nightlife.
Barcelona bars on the waterfront
The Maremàgnum complex at Port Vell complex houses a number of touristy, late-night Barcelona bars, from Irish pubs to run-of-the-mill discoteques.
Also packed with transient Barcelona visitors is the Olympic Port's yacht harbor. If you're looking to drink on the beach, this is the place to go, as many spots pump music inside with tables set up under the seaside promenade. There are also a few "chiringuitos" - beach huts - that stay open late during high season.